Who was Darius Hicks?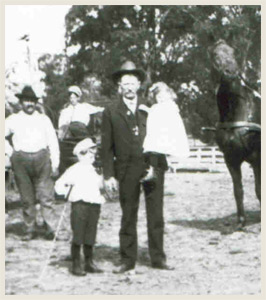 The name Darius Hicks has long been associated with Vishnu Springs as the man who developed a turn of the nineteenth century community around the springs. Darius was the third child of Ebenezer Hicks, one of McDonough County's richest men of the 1800s.
Darius' parents, Ebenezer Hicks (1816-1886), of Ross County, Ohio, and his wife, Jane (1816-1888), of Pennsylvania, moved to McDonough County about 1844. They were parents to five children: John Willis (1845-1864), Mary Francis (1847-1898), Darius Earl (1850-1908), Franklin Pierce (1852-1899), and Eliza Jane (1855-1857). Ebenezer amassed over 5,000 acres of land in McDonough and Hancock counties and his estate was valued at over $500,000 at the time of his death in 1886. In his father's will, Darius was given the tract of land, in Section 7 of Township 5 North, Range 4 West, that included the area now known as Vishnu Springs.
Not much is known about Darius as a young man growing up. At the age of 24, Darius married Ella D. Smith, age 23, of Macomb township. On September 28, 1874, the couple married at her parents' home. The couple had two children, Eva M. and Etta M. Their marriage, however, was rocky as noted in a codicil to Ebenezer's will (written in 1885). The codicil stated that, "whereas trouble has arose between said Darius Hicks and his wife Ella D and they are living apart and various lawsuits are likely to arise between them and the property... I may leave to him by said will is likely to be squandered in litigations." the properties were to be vested in Franklin, Darius' brother, as trustee to oversee until the marriage was reconciled or a divorce resulted. The couple divorced.
In 1889, Darius married for a second time, to Hattie Rush of Missouri. Hattie, a widower and mother of three, was reported to have some health problems. She suffered from a number of afflictions, including Bright's disease, and it is assumed that she probably came to Vishnu to partake of the healing powers of the spring water. Hattie died on January 30, 1896 at the age of forty, leaving behind husband Darius, two sons, Robert and Benjamin, and a daughter Maud.
On September 29, 1897, Maud M. Rush, 21, became 47-year old Darius' third wife. Maud M. Rush was the youngest child of Darius' second wife Hattie and the marriage caused quite a stir in the community. The couple had two children, Reon D. and Eulalia N. On September 1, 1903, during Maud's third pregnancy, she and the infant died in childbirth.
At the time of Maud's death, the family was living in Blandinsville, Illinois. Darius was now left to raise two small children by himself, so he hired a housekeeper, Nellie Darrah. A romantic relationship ensued and according to testimony in a suit brought by Darrah against the estate of Darius Hicks in 1909, Hicks and Darrah had made an agreement in 1905, that on the request of one or the other, they would marry. When the agreement was discussed by the couple in February 1908, Hicks refused to comply.
On the morning of June 15, 1908, Hicks received a phone call, after which he told his son that he could have his pocket watch. The boy was on his way to the barn when he heard a gunshot. Upon immediately returning to the house, he found his father laying in a pool of blood, from a self-inflicted gunshot wound. Within thirty minutes, Darius Hicks was dead. A note left by Darius stated that he wanted his cousin, Charles Irish to be guardian of his nine year old son and seven year old daughter. The note also stated that he was afraid that his name would be associated with a scandal, but that he was innocent.
A later newspaper report indicated that Nellie Darrah was hospitalized in Keokuk, Iowa at the time of Darius' death, suffering from complications from a criminal surgical procedure done by a doctor in LaHarpe, Illinois.
Darius Hicks is buried in Friendship Cemetery, Tennessee Township, McDonough County. Several members of the Hicks family, including two of his wives, Hattie and Maud, are also buried there.