Ira Post Taken by Death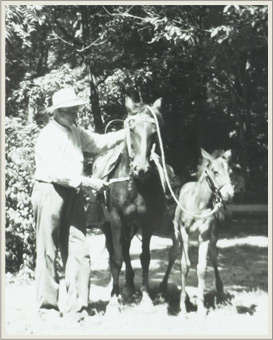 From Ira Post's obituary in the Prairie Citizen, November 9, 1951
Born on the Post homestead in Tennessee twp. McDonough Co., Ill. June 16, 1869, the youngest of a family of eight children as follows-John Abraham Post, Nicholas Henry Post, Mary Jane Post (Mrs. George Hills,) James Wesley Post, William A. Post, Laura Post (Mrs. Snyder, Lamb) Frank Carey Post, and Ira Post.
Ira Post was married to Reatha Twaddle Nov. 10th, 1891. They lived on their farm until Sept. 13, 1916, when they came to Macomb, where their two daughters, Bertha May Post and Orma Fay Post attended school at Western. Mr. Post always retained his farms and that was the interest he enjoyed the most. He assisted in ground labor at Western, and also some work in real estate. He was a great lover of nature and the out-of-doors, and continued these early morning trips to the farm most every day until the last. To share this joy of nature with others, he welcomed all to the grounds free at Vishnu Springs. He loved humanity, and children, and home, and Mr. and Mrs. Post reared their granddaughter. Possessed of good health, courage and vitality, and old ideals which has been expressed as "simple nobility" He held his deep interest and love for his old country community and neighbors. He was very grateful for this good health and fate which he enjoyed so long.
Ira Post was buried at Oakwood Cemetery, Macomb, IL.
---
Ira Post's family lived in Tennessee Township in the vicinity of Vishnu Springs. As a young lad, Post was familiar with the site and probably developed an interest in the Springs from an early age. Post purchased Vishnu Springs in 1935 and with the assistance of Alonzo "Lon" Cale, he restored the Capitol Hotel that Darius Hicks had built in 1889. The Post family lived in Macomb, but spent a good deal of time out at the Springs. The Posts, however, never lived there for any extended time. When the hotel was restored, a sleeping area on the lowest level was fixed up for Cale, and an apartment was remodeled for the Post family on the second level.
The Post family opened up Vishnu Springs once again to their family and friends, so they could come and enjoy the natural beauty of the Springs. A guest book was kept at the Spring House for all of the visitors to sign. Vishnu Springs remained open until 1954, three years after Ira Post died. At that point, Mrs. Post closed the site to visitors due to vandalism. Ira Post left the Vishnu property to his granddaughter, who was his youngest living relative.