Vishnu is Platted
That same month, at the request of Hicks and John Mourning, Surveyor Cephus Holmes drew the plat of Vishnu Springs. The plat shows a town which consisted of three blocks, one main street and three alleys. Thirty lots were drawn into the plat with lot sizes averaging 50 X 120 feet. Each lot was to be sold for thirty dollars.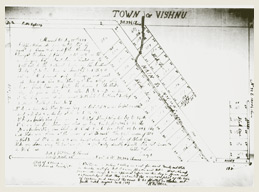 In October of 1889, Andy Ruddell is reported to have been the first settler at Vishnu, with the Colchester Independent, reporting two houses built and two more soon to be erected. Ed Sammons was planning on opening a restaurant, and Dave Reece was reported as a home owner. C. K. Way was surveying his addition to Vishnu.
The following February, the paper reported that Dr. Luce, the Indian doctor, was visiting the springs, probably with the intention of settling there. Deed records show that he did indeed buy some property in North Vishnu Springs, which was sometimes referred to as "Loose City."
Also, around this time, a man by the name of C. K. Way was considering the potential of the land adjacent to the platted town of Vishnu. He also had a section of land to the south of Hicks' platted, and named it Way's addition. Because of a strife between Hicks and Way, a reporter to the Independent suggested that a toll booth might be put up between the two properties, so visitors from "the south" would have to pay a toll to get to the springs. Way's addition never prospered.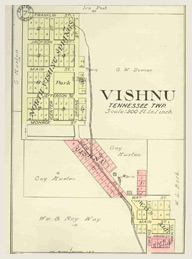 In 1890, the Independent reported talk of a post office at the springs. However, due to lack of interest, the post office was not established until June 15, 1895. It was located in the hotel itself. On March 31, 1908, the post office was discontinued and the postal services were transferred to Colchester.
Trade was on the increase in 1890. Mr. Reece was filling up stock at the store and there was talk of a barbershop. Prices for goods at Vishnu were competitive with Tennessee and Colchester.
The hotel finally officially opened in May of 1890. Just prior to the opening of the hotel, John Mourning decided to sell his interest in Vishnu back to Darius Hicks. A barn was built on site, as well as a livery stable. A windmill was being built to pump water from the springs to a water system that would be used to provide running water to the hotel. A "Driving park" or race track was being made. "John Oakman has bought a new horse and cart. Wonder if he will train him when the driving park is finished." (Independent, May 8, 1890)
In July 1890, while remodeling the windmill, Frank Williams fell 16 feet headfirst to the solid rock below. A rope which was being used to raise up part of the windmill broke and Williams was hit, knocking him off. The initial report of the accident which reached Colchester indicated that his injuries were fatal. In actuality, Drs. Aiken and Horrel were called and they found he had broken some ribs, was cut up and was badly bruised.