Happenings at Vishnu
Ever since its earliest years, there were reports of crowds going to the Springs. Many visitors came out for a weekend gathering or a picnic, others came to partake of the spring waters. After the hotel was built, more people were coming to Vishnu, so to capitalize on getting the visitors from Colchester, the location of the nearest depot, brothers John and Milton Mourning started The Vishnu Transfer Line. For 75 cents one could ride to and from the springs in a spring wagon, meal included. If a better ride was preferred, say in a carriage or canopy-topped three seated two horse buckboard, the cost was $1.00.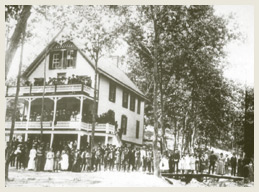 The hotel had come under the management of a first class hotel keeper, Mr. Thornton Maddox. He had added several amenities to the grounds; croquet was set up in the yard, hammocks were added, and a fountain was planned. A dumb waiter was installed inside the hotel for transport of food from one level to another.
Also in July 1890, the Independent gave a weather report: "It's hot." A new organ was put in the hotel parlor. Visitors were plentiful and among them were musicians. Miss Ollie Hankins, of Tennessee, "an accomplished musician and a good singer" was in residence. Bert Oakman and Prof. H.D. Jackson, of Bardolph were guests. And as the paper reported, "Prof. Jackson as a teacher of music, was an expert."
Misters Gaites and Powell opened a photograph gallery on Main Street, and were doing quite the business. Steps were built in the side of the hill to make the path from the upper ground down to the Hotel an easier walk.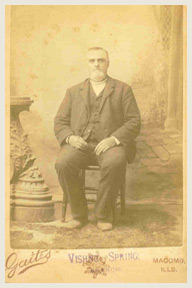 Religious events and visiting preachers were reported in the early years of Vishnu. One such event was the Camp Holiness Day of the previous year. In August 1890, the preacher Rev. Alexander Smith, son of the "Mormon Prophet," presented the religious doctrine of the Latter Day Saints as interpreted by him and his following at a gathering. It was reported by the paper that Alexander Smith and his followers did not recognize polygamy, like the Utah saints did.
A couple weeks later Elder Salisbury, a nephew of Joseph Smith, spoke to a crowd. Some of the attendees had come from California and Colorado to hear Elder Salisbury speak. He, like Alexander Smith, told his listeners that no members of his family practiced polygamy either. He also told of a "blissful land that one could enjoy if they would forsake their evil ways and become obedient to his teachings and wait 1000 years after death."
By December 1890, Hicks had finished a large artificial lake, sometimes referred to as Lake Vishnu.
Things were not always good at the springs. In 1890, a stabbing occurred at Vishnu. Andrew Ruddle and John Mourning had an altercation. Ruddle had contracted with Mourning to do some stripping at the quarry. He did some of the work and received some of the pay. When Ruddle confronted Mourning about the rest of the pay, he was told, like for most jobs, when the job was done, he would be paid in full. Ruddle continued to ask for his pay and Mourning continued to refuse to pay him until the job was done. When Mourning refused one too many times for Ruddle's liking, he attacked Mourning, cutting him with a knife, opening a long and painful gash in his shoulder. Ruddle fled the scene and remained at large for several weeks. He was apprehended in Missouri and brought back for a court appearance.